😱 👁️ 👿 👼 👁️‍🗨️ 𝚃𝚑𝚎 𝚂𝚝𝚘𝚛𝚢 𝚜𝚝𝚊𝚛𝚝𝚎𝚍 𝚑𝚎𝚛𝚎 😱 👁️ 👿 👼 👁️‍🗨️ 
As I walked into the town filled with dark magic and mystery in search of treasure, I knew I was wrong. I should not have ignored their advice and warnings, this town MUST have something wrong. The darkness of the night only added to the ominous atmosphere that surrounded me. As I walked through the town, I couldn't shake the feeling that something was off. The townspeople seemed to be in a constant state of unease because every household in the town had their doors tightly shut, no one dared to open them, and their fear was palpable.
「𝑱𝒖𝒔𝒕 𝒂𝒔 𝑰 𝒕𝒉𝒐𝒖𝒈𝒉𝒕 𝑰 𝒉𝒂𝒅 𝒓𝒆𝒄𝒆𝒊𝒗𝒆𝒅 𝒂 𝒄𝒉𝒊𝒍𝒍𝒚 𝒓𝒆𝒄𝒆𝒑𝒕𝒊𝒐𝒏 𝒖𝒑𝒐𝒏 𝒆𝒏𝒕𝒆𝒓𝒊𝒏𝒈 𝒕𝒉𝒆 𝒔𝒎𝒂𝒍𝒍 𝒕𝒐𝒘𝒏, 𝒔𝒉𝒆 𝒂𝒑𝒑𝒆𝒂𝒓𝒆𝒅 𝒅𝒓𝒂𝒑𝒆𝒅 𝒊𝒏 𝒎𝒐𝒐𝒏𝒍𝒊𝒈𝒉𝒕.」
The town was once a peaceful and peaceful place, where the townspeople went about their daily lives without a care in the world. But one day, something strange happened. A magic circle appeared in the heart of the town, and from that moment on, everything changed.

At first, the townspeople didn't take the magic circle seriously. But when the river turned black and the forest began to emit a strange white light at night, they knew something was wrong. And when a woman who had been taken by the guards for study grew wings on her back, the residents knew they had to escape. Not surprisingly, it was too late. The magic circle had become like a massive black hole, and no one can take a step out of this weird town again. Then, the mutation of all life in the town begins....


    😱 👁️ 👿 👼 👁️‍🗨️  𝙸𝚗𝚍𝚒𝚟𝚒𝚍𝚞𝚊𝚕 𝙵𝚒𝚐𝚞𝚛𝚒𝚗𝚎 𝙸𝚗𝚝𝚛𝚘𝚍𝚞𝚌𝚝𝚒𝚘𝚗 😱 👁️ 👿 👼 👁️‍🗨️ 
 「𝑻𝒉𝒆 𝒎𝒖𝒕𝒂𝒕𝒊𝒐𝒏 𝒊𝒔 𝒊𝒏𝒆𝒗𝒊𝒕𝒂𝒃𝒍𝒆. 𝑺𝒐 𝒍𝒆𝒕'𝒔 𝒈𝒆𝒕 𝒔𝒕𝒂𝒓𝒕𝒆𝒅....」
1. The first 'character' is 「Demonic Circle」, and it looks like a sheep bound for sacrifice in a magic circle - this is evident from its body being wrapped in bandages. It is said that Demonic Circle was once the owner of a pastry shop in the small town, but she was turned into a sacrificial offering through a terrifying ritual! Her eyes have turned crimson red.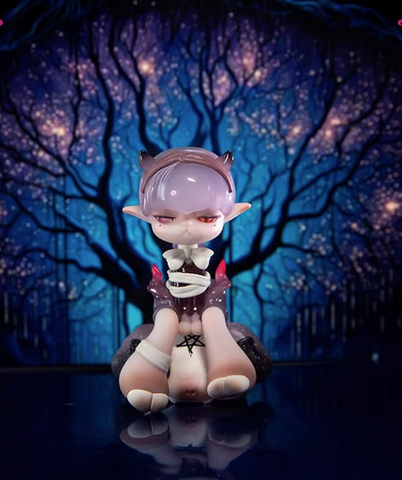 2. Our second figurine is 「Miss Kafka」. It is evident that she has mutated into a butterfly, as can be clearly seen from the wings on her back. The treasure chest has a lovely pink and gold color scheme. It was designed to imitate the appearance of a beetle, with two large pincers growing on her head. The antennae and wings are created with a gradient effect, and the wings on her back have a mesmerizing iridescent gradient with a pearlescent shimmer.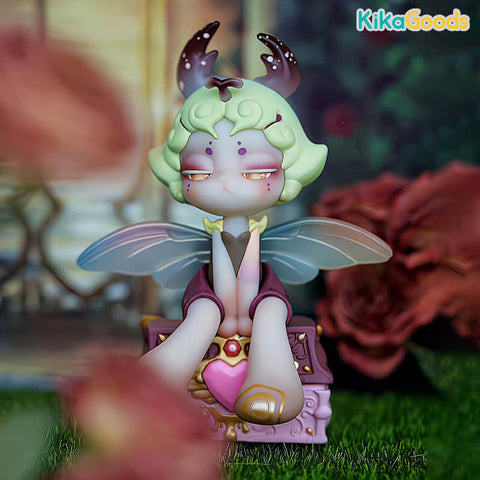 3. Then we have 「Stinger」. It is said that she always lurks in the dried-up well at the center of the small town during the midnight hours. With the needle on her head, she punishes those who have harmed her. Her doll's base is a dark-colored creature with a very bright heart in the center. The pointed tip of her hat on the head resembles a poisonous stinger, and mysterious patterns adorn her back.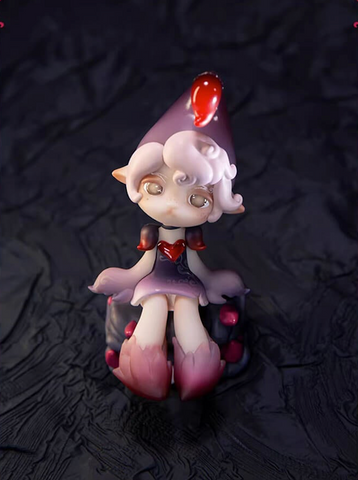 4.「Nun Bunny」: She was once a nun, but now she has been magically mutated into an adorable little bunny! OMG, I absolutely adore the pink and white color combination on her, which is the primary theme of this series! Among all the characters in this collection, she is the only one with an innocent gaze, resembling a cute little white rabbit.
5.「Werewolf」: I have seen her howling at the moon under the moonlight. Just like her name suggests, she has long wolf-like ears and cute wolf/dog paws. "Why are you running so fast? Why are you hiding from me? I just want to play together XD," she says playfully.
6.「The Moth」: She is quite literally a grayish-white moth! The treasure chest is a grayish-purple color, with a pearlescent blue heart in the center. With a slightly downward gaze and soft shades of grayish-purple, her entire head resembles the shape of a moth, with silver patterns on her back resembling moth antennae.
𝑯𝒊𝒅𝒅𝒆𝒏 𝑺𝒕𝒚𝒍𝒆𝒔
The hidden styles are "Seraph" and "Black Swan." Seraph was once a six-winged archangel, but she failed in a confrontation with a magic circle, resulting in the loss of her wings and hands, as you can see. She has now become a Fallen Angel.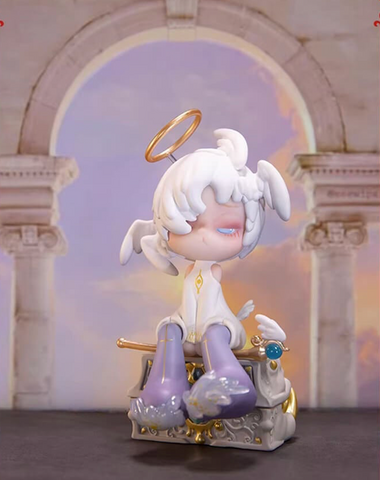 Black Swan used to be a priestess, diligently guarding the temple in the small town. However, she shouldn't have heeded the whispers of an unknown sorcerer, which led to her downfall and the inner turmoil she now faces.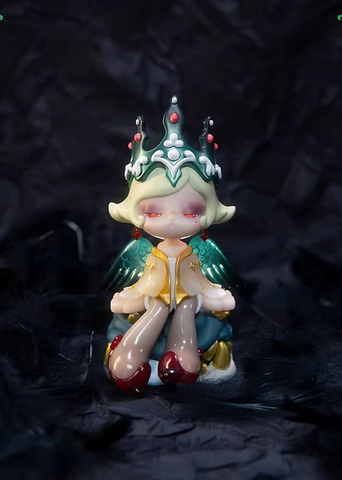 「𝑵𝒐 𝒐𝒏𝒆 𝒊𝒔 𝒑𝒐𝒘𝒆𝒓𝒇𝒖𝒍 𝒆𝒏𝒐𝒖𝒈𝒉 𝒕𝒐 𝒄𝒉𝒂𝒍𝒍𝒆𝒏𝒈𝒆 𝒕𝒉𝒆 𝒎𝒂𝒈𝒊𝒄 𝒄𝒊𝒓𝒄𝒍𝒆 𝒐𝒇 𝒕𝒉𝒆 𝒔𝒎𝒂𝒍𝒍 𝒕𝒐𝒘𝒏, 𝒏𝒐𝒕 𝒆𝒗𝒆𝒏 𝒂 𝒔𝒊𝒙-𝒘𝒊𝒏𝒈𝒆𝒅 𝒂𝒏𝒈𝒆𝒍......」
         😱 👁️ 👿 👼 👁️‍🗨️ 𝙷𝚊𝚗𝚍𝚜-𝚘𝚗 𝙴𝚡𝚙𝚎𝚛𝚒𝚎𝚗𝚌𝚎/𝚁𝚎𝚟𝚒𝚎𝚠 😱 👁️ 👿 👼 👁️‍🗨️  
This product has seen significant improvements from the previous Aroma Princess series. In terms of the background storyline design, it has shifted from being cheerful and bright to a more mysterious and dim atmosphere, with enchanting magic circles, the disappearance of the lord's daughter, and the residents undergoing strange mutations... There's not a single moment for relief. In fact, all these storylines based on each of them are interconnected (once you delve into the plot, you'll discover it), and the brand deliberately reveals only a part of the story, leaving room for imagination about the complete narrative.

Of course, the most crucial aspects of any product are its quality and design. Unlike previous works with simplistic foot designs (which resulted in previous styles lacking legs), the brand has now used authentic leg designs, giving the characters a more appealing appearance. Furthermore, the characters' clothing, eyes, and headpieces are all unique! Each character's design and inspiration come from different stories, creating a diverse blend that pays homage to various narratives.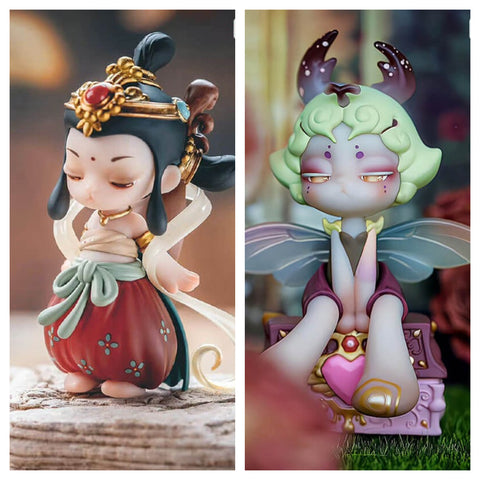 「𝐅𝐫𝐨𝐦 𝐭𝐡𝐞 𝐜𝐨𝐦𝐩𝐚𝐫𝐢𝐬𝐨𝐧 𝐰𝐢𝐭𝐡 𝐩𝐫𝐞𝐯𝐢𝐨𝐮𝐬 𝐰𝐨𝐫𝐤𝐬, 𝐢𝐭 𝐜𝐚𝐧 𝐛𝐞 𝐬𝐞𝐞𝐧 𝐭𝐡𝐚𝐭 𝐡𝐞𝐫 𝐥𝐞𝐠𝐬 𝐚𝐫𝐞 𝐡𝐢𝐠𝐡𝐥𝐢𝐠𝐡𝐭𝐞𝐝, 𝐰𝐡𝐢𝐜𝐡 𝐠𝐢𝐯𝐞𝐬 𝐭𝐡𝐞𝐦 𝐚 𝐦𝐨𝐫𝐞 𝐟𝐞𝐦𝐢𝐧𝐢𝐧𝐞 𝐚𝐧𝐝 𝐚𝐞𝐬𝐭𝐡𝐞𝐭𝐢𝐜 𝐚𝐩𝐩𝐞𝐚𝐫𝐚𝐧𝐜𝐞.」

Based on my current experience with the product, its playability is quite good. Each figurine comes with a base, making it easy to display them anywhere, such as on your display cabinet or work desk. However, the only slight drawback is that the figurines and bases do not have magnetic or connecting mechanisms, so using a little Blu-Tack might be necessary to securely attach them together.


Besides, I really want the hidden version of the six-winged angel!! Unfortunately, I wasn't lucky enough to get it >3

However, now, all I want to do is leave this chilling and haunted town . Run away before my consciousness is been taken away by the magic circle. But it's all too late; my feet are starting to move involuntarily towards that mysterious symbol, possibly an otherworldly magic circle.

「𝔗𝔥𝔢 𝔪𝔲𝔱𝔞𝔱𝔦𝔬𝔫 𝔥𝔞𝔰 𝔟𝔢𝔤𝔲𝔫.」 𝔖𝔬𝔪𝔢𝔬𝔫𝔢 𝔟𝔲𝔱 𝔫𝔬𝔱 𝔪𝔢 𝔱𝔬𝔩𝔡 𝔪𝔢 𝔪𝔶𝔰𝔢𝔩𝔣.