YunLai Food Shop has returned with 4 BRAND NEW adorable companions in Season 2! They are no longer individual selectable dolls, but have transformed into a set of 6 doll blind boxes, each featuring different colors and in different outfits!
「𝒀𝒐𝒖'𝒗𝒆 𝒃𝒆𝒆𝒏 𝒊𝒏𝒗𝒊𝒕𝒆𝒅 𝒕𝒐 𝒋𝒐𝒊𝒏 𝒀𝒖𝒏𝑳𝒂𝒊 𝑭𝒐𝒐𝒅 𝑺𝒉𝒐𝒑'𝒔 𝒅𝒆𝒍𝒊𝒄𝒊𝒐𝒖𝒔 𝒅𝒊𝒏𝒏𝒆𝒓! 𝑨𝒓𝒆 𝒚𝒐𝒖 𝒓𝒆𝒂𝒅𝒚 𝒕𝒐 𝒅𝒊𝒈 𝒊𝒏? 」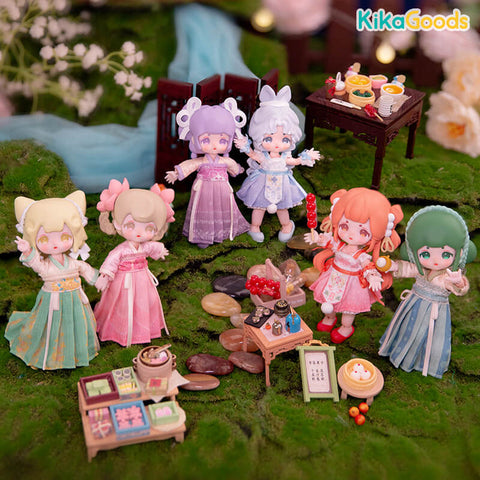 In the realm of legends, YunLai, a charming town nestled beside the Star River's mouth, boasts a tranquil tributary known as Little Star River. This idyllic setting is home to the famed YunLai Food Shop, a haven where delectable pastries captivate taste buds and stories of celestial maidens weave a mystical aura.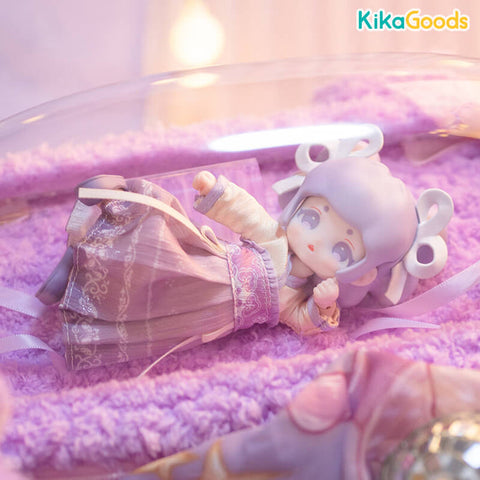 Rumor has it that the shop's proprietress possesses a special box, imbued with enigmatic powers. Under the full moon, the shop's backyard becomes a haven of laughter and heavenly aromas, a testament to the celestial maidens' influence.
In this captivating backdrop, enter the spirited heroines of YunLai Food Shop Generation 2.
United by a vision inspired by the YunLai Food Shop's legacy, these six young sweetie embarked on an extraordinary journey. Guided by the tales of celestial maidens, they established their own bakery, each channeling the essence of a different delicacy.
Taro embodies auspiciousness with her purple charm. Osmanthus Cake radiates warmth like osmanthus blossoms. Peach Blossom captures the allure of blooming peaches. Rice Ball Tanghulu continues tradition with nostalgic treats. Qing Tuan celebrates cultural richness. Rabbit Tangyuan symbolizes unity.
Beyond their shop, these heroines embraced a higher calling. They extended kindness to the less fortunate, infusing joy and flavors into the lives of villagers.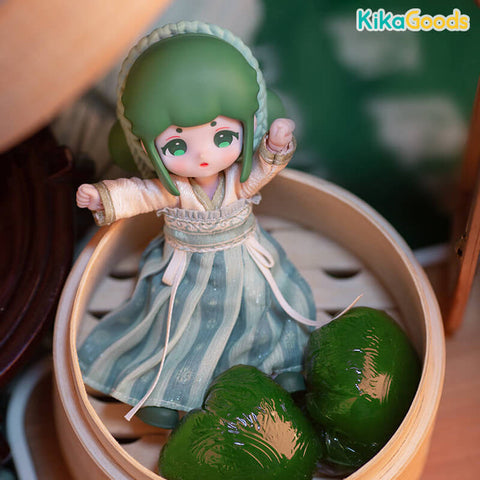 Under the stars, they laughed and played, their camaraderie blossoming much like the flavors they crafted.
This is the enchanting tale of YunLai Food Shop Generation 2, where flavors, friendship, and a touch of celestial magic intertwine.
「𝑨𝒅𝒐𝒓𝒂𝒃𝒍𝒆 𝑻𝒂𝒏𝒈𝒉𝒖𝒍𝒖 𝒂𝒏𝒅 𝑻𝒂𝒏𝒈𝒚𝒖𝒂𝒏 𝒂𝒓𝒆 𝒈𝒆𝒕𝒕𝒊𝒏𝒈 𝒓𝒆𝒂𝒅𝒚 𝒕𝒐 𝒕𝒂𝒌𝒆 𝒚𝒐𝒖𝒓 𝒐𝒓𝒅𝒆𝒓. 𝑾𝒉𝒂𝒕 𝒘𝒐𝒖𝒍𝒅 𝒚𝒐𝒖 𝒍𝒊𝒌𝒆 𝒕𝒐 𝒉𝒂𝒗𝒆 𝒕𝒐𝒅𝒂𝒚?」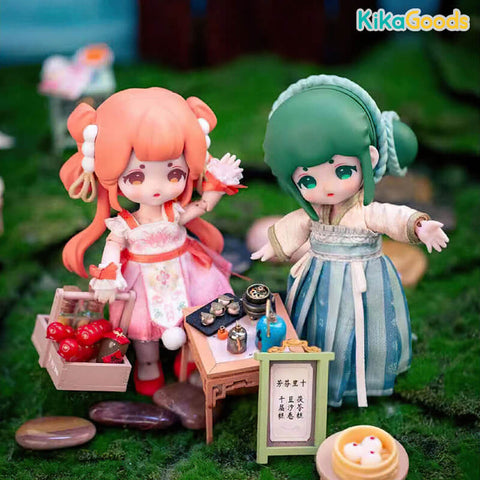 But the enchantment doesn't stop there. These six heroines come to life not only through their story but also as BJD figurines. Crafted with intricate ball joint designs, they can gracefully strike countless poses, adding an interactive dimension to their captivating tale. Collectors and enthusiasts alike will find themselves charmed by the versatility of these dolls, as they effortlessly adapt to any setting or story you envision.
Whether perched upon a shelf, recreating scenes from their bakery, or reimagining their adventures, these BJD figurines bridge the gap between art and imagination, making them not just collectibles, but companions on a creative journey. Indulge in the joy of owning a piece of YunLai FoodShop's magic, both as a tale and a tangible work of art.
Compared to YunLai FoodShop Series 1, the second generation features not only the original Tanghulu and Tangyuan, but also four other sweeties! Back then, LuckyDoll hadn't yet realized that combining blind boxes with BJD (ball joint dolls) was a fascinating option. So, they designed and produced just two styles -- Tanghulu and Tangyuan, named after two traditional Chinese delicacies, who had became the food shop keeper. People either favored the blue Tangyuan or the red Tanghulu, or perhaps liked them both!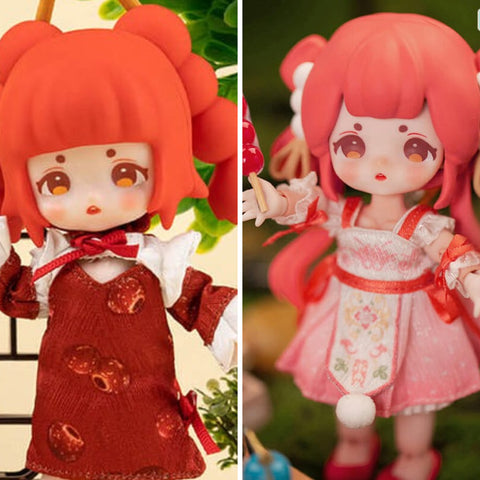 As a blind box themed around gastronomy, the distinct colors of each style were crucial. The vibrant hues enhanced the cuteness of these little companions, with their various head ornaments cleverly representing their corresponding treats. For instance, Qing Tuan's hair resembles two adorable Qingming Festival rice balls!
But when this brand-new second generation of YunLai Food was released, people are shocked that LuckyDoll transformed the initial red of Tanghulu into a gentle pink, and changed Tangyuan's blue to a soft blue. These subtle adjustments and designs made their colors appear softer, as generally, people consider purely red or blue colors to be less popular due to their simplicity.
However, the only slight drawback is that their expressions remain identical. If LuckyDoll could have explored slightly varying their expressions, or provided interchangeable faces with different expressions for players to mix and match, it would have added a delightful touch of individuality to these six dolls and left fans more satisfied.
Amidst the tapestry of flavors and friendships, these sweetie in YunLai Food Shop Series 2 stand as a testament to the enchanting power of unity, creativity, and the magic that comes alive when dreams are pursued together. As their journey continues, so does the promise of delectable delights, heartwarming connections, and a touch of celestial wonder, all encapsulated within the walls of a quaint bakery that serves not only food but also a slice of pure magic.